Textes en français - Text in English
Bustes Navajo
bronze patiné, taille humaine
Le sculpteur, Jean-Charles Maïna a créé ces deux bustes en bronze, « Grandpa Navajo » et « Grandma Navajo » après plusieurs voyages dans le sud-ouest des USA. Il souhaite par ce travail nous interpeler sur le temps qui passe et sur le regard porté sur les personnes âgées par nos sociétés modernes, par rapport à d'autres.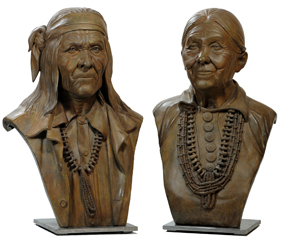 La sculpture, une passion
Dans son atelier, près de Lyon, Jean-Charles Maïna pratique la sculpture depuis de nombreuses années. Autodidacte, il a acquis une solide expérience et un savoir faire de grande qualité. Il crée des sculptures en bronze pour des collectionneurs et de prestigieuses entreprises dans la décoration, l'orfèvrerie, le design, les trophées ou les médailles.
C'est très important, pour lui, de pouvoir accompagné au mieux ses clients dans la réalisation de leurs projets.
Il sculpte aussi, régulièrement, des oeuvres plus personnelles, principalement des portraits et des animaux.
Navajo busts
bronze and patina, life size
The sculptor Jean-Charles Maïna has created two bronze busts, « Grandpa Navajo » and « Grandma Navajo » after several trips in south-western USA.
He wishes us to question this work as time goes on and the perspective on the elderly in modern society, compared to others.
Sculpture, a passion
In his studio, near Lyon, Jean-Charles Maina practice sculpture for many years. Self-taught, he gained experience and know-how of high quality. He creates bronze sculptures for collectors or for prestigious companies in decoration, silverware, design, trophy or medal.
It is very important for him to be able to better assist clients in realizing their projects.
He sculpts too, regularly, more personal works, mostly portraits and animals.